It looks like someone linked you here to our printer friendly page. Please make sure you go Back to Safehaven.com for more great articles just like this one!
Not All Coins Have a Happy Ending, So Go Ahead and Short
By: Ross Pilot | Monday, October 30, 2017
I am shorting the Tezo coin.
The Tezos initial coin offering was one of the largest of the summer of 2017, with $230 million US raised (now worth $400). It is now a complete disaster, with Tezos now officially under investigation by ICO investors.
Trading of the tokens has been suspended indefinitely. All money raised by the ICO has been locked away and kept by the Tezo foundation. But wait, it gets better:
"…the venture is now in danger of falling apart because of a battle for control playing out behind the scenes, Reuters has learned.
The acrimonious dispute pits Tezos' two young founders – Arthur and Kathleen Breitman – against Johann Gevers, the president of a Swiss foundation the couple helped establish to handle the coin offering and promote and develop the Tezos computer network.
Under Swiss law, the foundation is supposed to be independent. It holds all of the funds raised, which have mushroomed to more than $400 million in value because the contributions were made in two cryptocurrencies – bitcoin and ether – that have appreciated sharply. But the Breitmans, who still control the Tezos source code through a Delaware company, are seeking to oust the head of the foundation."
From Business Insider, October 19th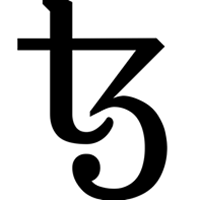 I'm pretty much one of the biggest cryptcurrency cheerleaders around (I would not be dedicating my working life to this newsletter if otherwise). But that doesn't mean every digital coin minted is going to make investors a gazillion dollars.
I wrote about about Tezos back on August 2nd, with the headline Tezos and How to Make a Quarter Billion Dollars Disappear. The headline should tell I didn't like the ICO even back then.
I noted in the article:
1. Investors didn't even get coins. Instead, they got a PROMISE of a coin to be distributed possibly before the end of 2017
2. The founders of the ICO – the initial coin offering not only get 10% of the coins that have yet to be minted, but have the right to convert 8.5% of the funds raised into fiat. That's $19.72 million USD. (Now more than $30 million unless they converted it all to fiat back in August)
3. Finally, I commented that the founders Kathleen and Arthur Breitman (husband and wife) had zero experience running a development team, let alone a company.
But I'm not writing about Tezos because I want to the play the game of I-told-you-so.
Initial coin offerings are the Wild West of cryptofinance right now (and that is saying something). There are huge opportunities for financial gain as well as equally huge risks that your money ends up flushed down the toilet. There will be more Tezos.
No, I am writing this article because….
…Unbelievably, you can short the Tezos. Bitmex has a futures contract on the Tezo coin, currently trading at 0.00022 Bitcoin or about $1.32. Let's have a closer look at the contract: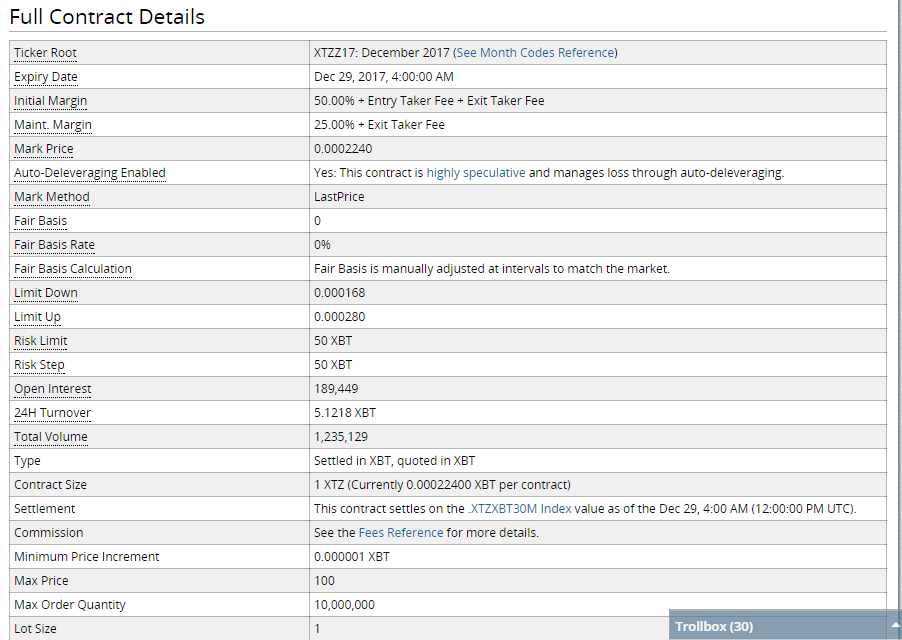 Now the important thing to notice is that contract settles on December 29th, 2017, which is a little more than 2 months away. The contract will settle according to the price of Tezo on the Poloneix exchange as show by screen capture of the XTZXBT30M index: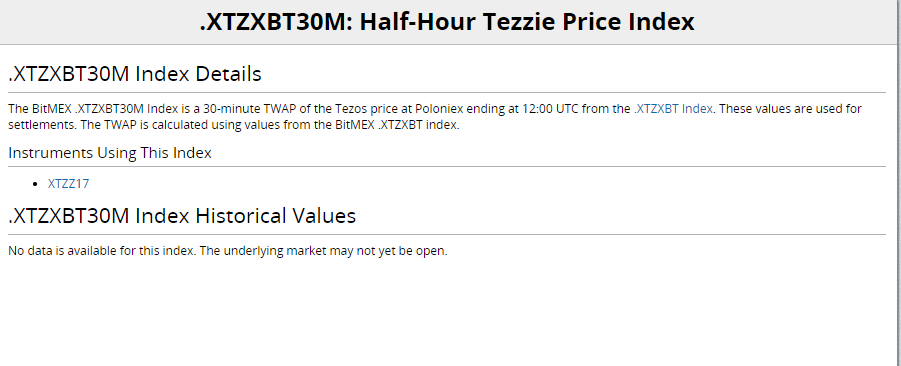 For this contract to settle at price above zero, two things have to happen:
1. Tezos has to issue the coin to the investors who bought into the ICO (AFAIK, they haven't even done that).
2. Tezos has to be listed on the Poloniex exchange.
But remember, there is a class-action lawsuit brewing against the founders/foundation CEO of Tezo, who are also busy suing each other. What are the chances that in the next two months that this coin is going to go to market?
I would short a LOT of Tezo if I was 100% positive that there was no chance of a short squeeze. But Bitmex is somewhat… um… unregulated and I have seen some mysterious buying on Tezos in the last month or so.
I don't know if the buying is from Tezo true believers who think they are getting a deal at $1.33 or sharks trying to instigate a short squeeze.
If I do get an email saying my position is liquidated you can be sure I will log in pretty quick to short into the spike, as they don't last very long.
Barring some miracle, the contract will go illiquid in last few weeks of December, if not before and it will be game over.
Expect the Tezo drama to continue well into 2018.
By Ross Pilot